Case Study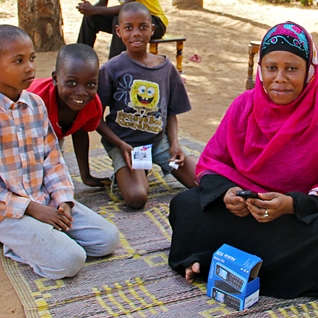 Tim Wright
When the College of William and Mary teamed up with local and foreign partners to test the effectiveness of a program empowering women in Tanzania, primary investigator Tim Wright was charged with managing the survey. Instead of the traditional pen and paper, Tim harnessed the mobile revolution to make data collection quicker and easier – and he did it with droidSURVEY.
American NGO Kidogo Kidogo helps bridge the gender gap in Tanzania by distributing free mobile phones to women. To test how well the program works, the College of William and Mary, along with microfinance institute FINCA and Tanzanian think tank REPOA, designed baseline and endline surveys to study the impact of the Kidogo Kidogo model, as well as the impact of free mobile phones in the wider population.
Traditionally, this kind of project would have been carried out with pen and paper surveys. However, this method creates a whole bevy of problems – the paper surveys are cumbersome, easily damaged, and all results need to be entered manually, creating an unnecessary source of error. Instead, Tim decided to make use of the proliferation of mobile devices in the area to drive his survey solution. "In the developing world, with the mobile revolution transforming how cell phones are being used, having a survey software that can be used offline and online, and work through mobile devices is huge," explained Tim. "droidSURVEY has a really user friendly accessible design that my Tanzanian research team was able to pick up right away."
Beyond offline data collection, one of the biggest draws for Tim was droidSURVEY's ease of use. "As far as programming it, it was all straightforward," he said, adding that "the process of uploading results worked very smoothly".
"As a matter of fact, I received an email from REPOA [stating] that they were so impressed with the ease of using the mobile platform that they would like me to help them get set up to carry out further studies in this manner."
Organisation Snapshot
The College of William and Mary is located in Williamsburg, Virginia. The second-oldest college in the country, W&M has a heavy focus on cutting-edge research and creating new models of sustainability for higher education.
Kidogo Kidogo are a company that fund the distribution of cell phones to women in need. Profits from the sales of their sleek and distinctive iPhone cases are used to transform the lives of women in Tanzania.
FINCA are a global microfinance network with the aim to provide financial services to the world's lowest-income entrepreneurs so they can create jobs, build assets and improve their standard of living.