Case Study
Dr LaRon Nelson
Assistant Professor, School of Nursing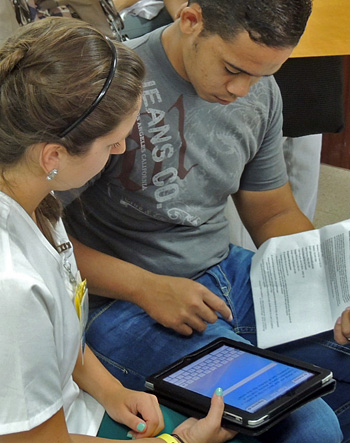 In the West African republic of Ghana, same-sex relationships are illegal, and punishable by prison time. When assistant professor LaRon Nelson from the University of Rochester School of Nursing carried out HIV prevention research in the area, he needed a survey solution that would keep respondent data private and secure. The answer: iSURVEY.
In his role as assistant professor, LaRon conducts research on HIV prevention and treatment in the United States, Canada, and Ghana. Because his research involves gay men, operating in Ghana means that his respondents are at risk of arrest if their answers are revealed. "We don't like walking around with pieces of paper with people's names on them," he explains. "We don't want people filling out papers and then the police walk in and confiscate [them]."
"iSURVEY really works well for us because once you answer the question, the data is gone into the system – you can't really access it without some good hacking skills," LaRon said. "Because of the type of research we do, iSURVEY just offers an additional level of security."
Data security wasn't the only benefit. With pen and paper surveys, honesty had often been a problem. Respondents sometimes felt embarrassed about their answers, and this meant that in some cases they wouldn't be comfortable disclosing the answers that truly represented their realities. "With paper and pencil, even if they answer the question themselves, they still have to hand the paper to us and we can see the answers, so it still doesn't address the privacy issue," said LaRon. "With iSURVEY, once they answer the question, we never see what they said. We only look at the data in aggregate, so everybody's individual answer is protected."
Since 2009, LaRon has come back to iSURVEY time and again. "Having used it for so long, I haven't found anything that's better," he said. "Once I had a chance to communicate with [the team] about what my needs were as a researcher, I've never had a reason to even think about using other things."
"When I talk to students and other faculty, I always say 'You have to use iSURVEY'."
Organisation Snapshot
The School of Nursing at the University of Rochester was established in 1925, and aims to lead the national agenda in transforming the discipline of nursing through innovative education, practice, and research. The school has an extensive research program, and a vision to pursue excellence in clinical and scientific learning, discovery, and nursing care.